Looking for a great band for your wedding, party or event on Martha's Vineyard? You've found us!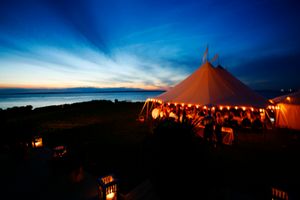 Mike Benjamin & the Keepers have been performing at weddings, parties and private events on Martha's Vineyard, Boston, Cape Cod and beyond for over 15 years. We look forward to making your event a success with the energy that only live music can bring. 
The band has had the honor of playing for celebrities, presidents and people from all walks of life. From late night host Seth Meyers to Tom Hanks, Mary Steenburgen, Ted Danson and perhaps most notably President Bill Clinton's Birthday Party ( check out the video of Bill sitting in with the band on our video page). Just this past summer we had the great honor of playing at President Obama's 60th Birthday Party as well as performing at Norman Lear's 90th birthday celebration, all in the same week!
As a band with over 400 events under our belts we have the experience, professionalism and versatility to always have just the right music at just the right moment. Usually, the guests at weddings are multi - generational and I can honestly say that we have something to offer any age group. The key is getting everyone up and dancing! Once we get em on the dance floor we flow from song to song to keep em there. Let us know what songs/bands you like and we can work together to customize the night's music to your tastes and we're always good to learn a few tunes for you as well. For both the band and the guests, perhaps the best part of playing music at weddings is spanning multiple genres. From Motown, R&B, Classic Rock, Soul, Pop, Disco, Country, Reggae, swing, 60's - 90's and more modern music we flow from song to song without missing a beat. 
While we love to play weddings, we're more than just a great wedding band. You can find us playing shows at bars, clubs and venues in various combinations.  We had blast playing at the last three Martha's Vineyard's Beach Road Weekend festivals. We'd love to meet you so come and see us  live at a show. Whether your looking for a great dance band for a perfect Martha's Vineyard wedding, a few talented musicians for a ceremony, cocktail hour, rehearsal dinner or a live band for a backyard BBQ or beach party we got you covered! Check out the rave reviews our past clients shared on our reviews page.
We are also well versed on what it takes to plan a wedding on Martha's Vineyard and would be more than happy to share our experiences. Check out our FAQ page and please feel free to send any random questions our way. We've performed at all the wedding venues on the Vineyard and would be glad to share the pros and cons of each with you. We are proud to have earned a solid reputation with all the wedding vendors here on the Island and during each event we work closely with wedding planners, photographers, caterers to ensure the evenings timing flows smoothly.  I even have the electric generator and porta potty guys cell phone numbers in my mobile phone , just in case :)
Your event is as important to us as it is to you. Our mission is that you and your guests walk away remembering a great night with a great band!
Please contact us for more info, we look forward to working with you and thanks for visiting our web site!  – Mike